Hi, everyone! :D
Now that I've seen Harry Potter and the Deathly Hallows Part 2 (and had some time to get over it... okay, I'll admit, I'm still not over it and I will probably never get over it, haha!), here are a couple of movies that I am looking forward to:
1. Paranormal Activity 3 -- I've seen Paranormal Activity 1 and 2 - I wasn't too crazy about the first one, but the second one was pretty good. I definitely want to see where and how all the paranormal activity began.
2. Margin Call -- I'm usually more into romantic comedies, but I do watch serious movies from time to time, and Margin Call looks like a really good one - plus, the cast is fantastic!
3. New Year's Eve -- I've seen a lot of comments on different websites about how this is just Valentine's Day all over again with the all-star ensemble and the story being centered on one specific day, and it probably will be the same, but that won't stop me from watching this movie... and I happen to love Valentine's Day. :)
I'm just not too sure about scruffy Ashton Kutcher being paired with Lea Michele? Hmmm... but who knows, right? Watching the trailer is making me all excited for Christmas and New Year's. :D
4. Sherlock Holmes 2: A Game of Shadows -- I loved the first Sherlock Holmes, so I am excited to see this movie. And hey, Noomi Rapace (aka Lisbeth Salander) will keep Holmes and Watson company. :)
5. The Hunger Games -- I just want to say thanks to all the bloggers who tirelessly blogged about The Hunger Games trilogy. :) If I didn't hear about it from you guys, I probably wouldn't have read all three books, so thanks!
No trailer yet, but they do have this awesome movie poster:
*I hope it's doing the whole burning thing right now...*
Oh, and Entertainment Weekly released new stills from the movie!!!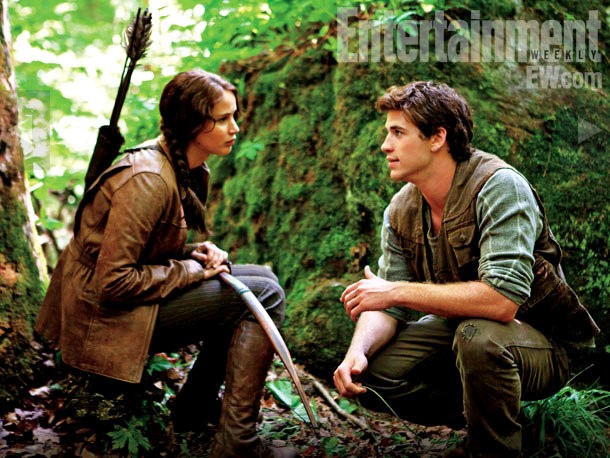 Katniss and Gale
Ummm, I am liking Katniss' boots and jacket! :)
Is it just me, or are her hunting clothes a bit too pretty? Haha. ;)
Peeta!
When they first announced that Josh Hutcherson was cast as Peeta Mellark, I wasn't quite sure if it was going to work... but hello, that is so Peeta! Well, at least from how I imagined it...
Way to go, Josh Hutcherson!
Gale and Peeta
Soooo excited! :D
Which of these movies are you most excited to see?
Yay, it's Friday tomorrow! :)