Happy Thursday!!!
The first episode of Gossip Girl's last season aired this week -- even though I think it's definitely time to end the show and its story, it's still very sad to think that this is it! I feel like another part of my childhood/teenage years is over (this is like Harry Potter all over again, haha!) because I started watching this show when I was a junior in high school and now I'm 22 years old -- I guess it's really time to grow up. ;)
Anyways, I know we just had a Style Spotlight post last week and it might be too soon to have another one, but I'll make an exception because this post is going to be all about everyone's favorite Queen Bee: Leighton Meester (a.k.a. Blair Waldorf). :)
***click to enlarge***
"Waldorf's influence hasn't turned her into a fashionista by any stretch -- off-hours, Meester is the low-key, comfort-first type who does most of her shopping online or when traveling, and she only uses a stylist for red-carpet events."
"an anti-heroine of the first rank: bad-tempered, mean-spirited, bulimic, acquisitive, endlessly scheming and, of course, dark-haired..."
"I don't know how she does it! Blair was always my favorite character in the books, and Leighton embodies her perfectly. It would be so easy to make her a stereotypical bitch, but instead Leighton gives her a softness and intelligence and almost a physical comedy, too." -- Cecily von Ziegesar on Leighton's portrayal of Blair Waldorf
I definitely agree! :)
"...being famous or rich or making a certain kind of movie -- none of that means 'success' to me. Success to me is being happy and fulfilled, truly fulfilled, and being proud of myself and doing different things all the time."
-- Leighton Meester
***from Lucky magazine***
Doesn't she sound amazing?! I'd love to be friends with Leighton!
And I would also love to raid her closet! ;)
Now, let's take a look at Leighton's style...
Sunnies:
Scarves-Coat-Boots Combo:
Dresses:
All Dolled Up:
Gossip Girl: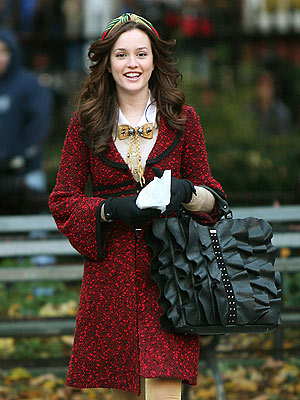 Aaaahhh, it's so difficult to stop, haha! I just realized that Blair Waldorf's style alone deserves its very own post... maybe next time. ;)
Gossip Girl fans, we only have 9 more episodes left... are you ready to say goodbye to our favorite Upper East-Siders, their drama, and their gorgeous clothes? I don't think I am, haha. *Sobs*
What do you think of Leighton Meester's style?
Are you a Gossip Girl fan? Do you have a favorite Blair Waldorf outfit?
I hope you are all having a lovely week! :D
-------------------------------------------------------------------------
To win a pair of circle lenses and one animal case from LensVillage, please click
here
.
Open internationally. Two winners! Ends on October 27th at 11:59pm PST.