Happy Monday!
It's almost fall, and a new season means new TV shows!
I was reading Entertainment Weekly, and I read all about new and returning TV shows = so excited! :)
I am excited for the return of Glee (September 20th), Gossip Girl (September 26th), Grey's Anatomy (September 22nd), and The Mentalist (September 22nd)... but, I am also excited to watch new shows premiering this fall:
Hart of Dixie (CW) - September 26th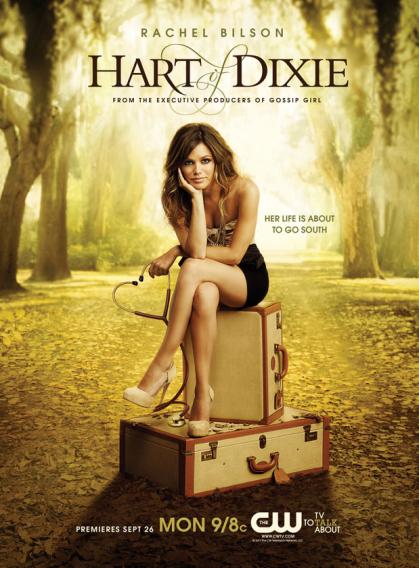 Call it Southern Exposure. Rachel Bilson reunites with The O.C. creator Josh Schwartz for this medical drama, playing big-city doc Zoe Hart, who heads to tiny Bluebell, Alabama when she inherits a practice. Expect culture clashes galore and Zoe to stay put after coming through in a medical emergency and discovering an old secret. Having Scott Porter play your potential beau doesn't hurt either.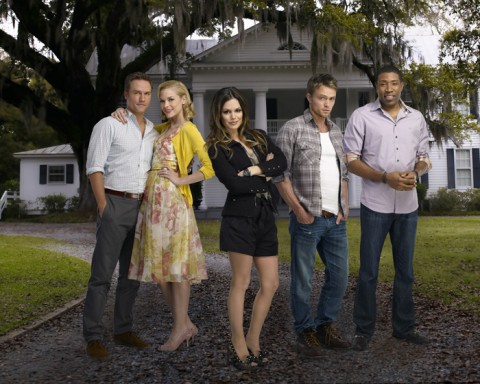 I think it has a very promising story and it'd be cool to see how life is in the South. I am not Rachel Bilson's biggest fan, but I am liking her more and more. I'm not too sure how convincing she will be as a doctor, but I am still looking forward to this show -- and I just know her clothes will be beautiful! ;)
Ringer (CW) - September 13th
Sarah Michelle Gellar's back! And this time, there's two of her! Gellar plays twins Bridget and Siobhan — both decidedly un-Buffy-like — in this mystery thriller that was originally developed for CBS. Bridget, a recovering alcoholic, is on the run from some baddies and decides to hide out by taking the identity of her wealthy twin sis, who is thought to be dead. Turns out taking on Siobhan's persona puts Bridget in a very different kind of danger. Lost alum Nestor Carbonell co-stars, but don't expect any sci-fi stuff, à la Lost and Buffy, on Ringer. "No hatch! No island!" Gellar says.

Yay, she's back! I don't remember too much about Buffy, but I do remember that everyone was crazy about that show. I'm really hoping Ringer becomes a success!
The Secret Circle (CW) - September 15th
Something wicked this way comes from Kevin Williamson once again. The man who gave us Vampire Diaries has now adapted L.J. Smith's other supernatural book series. Britt Robertson is Cassie Blake, a California teen who moves to Chance Harbor, Washington where she discovers she's a witch and joins a secret coven that includes Thomas Dekker, Phoebe Tonkin and Shelley Hennig. But don't think you will know what's coming if you've read the novels. Why? (Spoiler alert!) The show kills off someone who survived the whole book series in the opening minutes of the pilot.

I don't watch The Vampire Diaries, I haven't read the books in The Secret Circle series, and I actually didn't know about this show until recently, but despite that, I am definitely gonna watch this show's pilot episode... hopefully, I like it enough to tune in every week.
Revenge (ABC) - September 21st
The drama stars Emily VanCamp as Emily Thorne, a mysterious woman who heads to the Hamptons under the guise of wooing Daniel (Joshua Bowman), the son of Victoria Grayson (Madeleine Stowe). But she's actually there to exact revenge on the people (ahem, Victoria) who destroyed her family. It's a contemporary re-telling of The Count of Monte Cristo, but Emily Thorne makes for a much prettier little liar than Edmond Dantes.

This looks very interesting! It sounds like there's gonna be quite a few twists and shockers in the story. And Hamptons = beautiful houses and beautiful clothes... can't wait!
Once Upon a Time (ABC) - October 23rd
Do you think fairy tales are real? They are in Storybrooke, Maine, a town frozen in time with fairy-tale figures who have no recollection of their real identities. Leave it to 10-year-old Henry (Jared Gilmore) to try to set things right when he tracks down his birth mom, Emma Swan (Jennifer Morrison), a bail bonds collector who is the daughter of Snow White (Ginnifer Goodwin) and Prince Charming (Joshua Dallas). The fantastical drama, which will tell dual stories set in present-day Storybrooke and in fairy-tale land, comes from Lost writers Edward Kitsis and Adam Horowitz, so keep your eyes and ears peeled for lots of references to time travel and polar bears.

I love fairy tales (who doesn't?) and I love Ginnifer Goodwin!
A Gifted Man (CBS) - September 23rd
He sees dead people! Actually, just one dead person. Michael Holt (Patrick Wilson) is a hot-shot, arrogant surgeon whose life gets thrown for a loop when his recently deceased ex-wife, Anna (Jennifer Ehle), starts appearing to him to teach him about life from the hereafter. (Think House meets Eli Stone meets Ghost Whisperer.) The show was created by Oscar-nominated screenwriter Susannah Grant (Erin Brockovich), features a supporting cast that includes Julie Benz and Justified's Margo Martindale, and had Jonathan Demme at the helm of its pilot.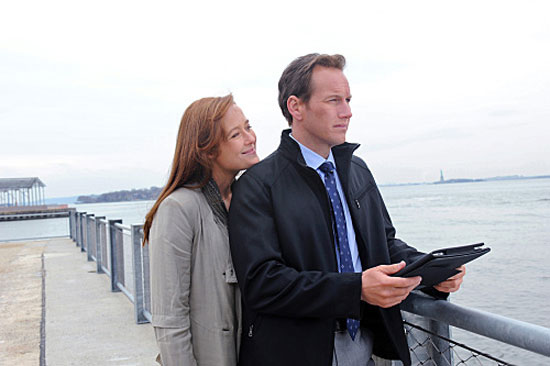 This one is kinda sad! I just have a feeling I will be rooting for these two to end up back together... but she's dead! :/
I definitely want to see how the story will turn out, though.
***details from www.tvguide.com***
Which new and/or returning shows are you looking forward to?
Have a great week ahead! :D
-----------------------------------
P.S. Win a $25
Apothica
gift card! Please click
here
.