Happy Wedding Wednesday... oh no, wait, it's Thursday! ;)
Okay, so this pair didn't exactly have a happy ending... as everyone knows, Kim Kardashian filed for divorce from Kris Humphries this week. And lots of rumors came out about how their marriage is a sham and stuff like that. I think we're never gonna know what the truth is, but it is definitely a sad thing as any divorce is. With that said, along with almost everyone, I didn't really think they were gonna last -- their divorce is not a shocker, but the fact that it came so soon after they tied the knot is.
But hey, it's the wedding we're gonna look at, not their marriage.
So, here we go:
Kim and Kris had a much-hyped and overly-lavish wedding in Montecito, California on August 20, 2011 -- 72 days before she filed for divorce.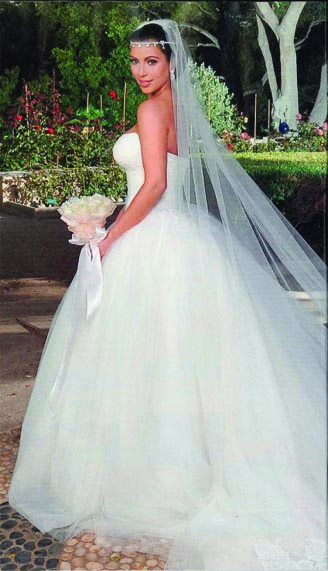 Her first custom-made Vera Wang gown was a strapless one with a full tulle skirt, basque waist, and hand-pieced Chantilly lace applique on the train and the bodice. Under her dress, she wore Giusseppe Zanotti shoes.
Articles I've read said the dress was gorgeous, but I'm not really a fan -- I think it's, I really don't know how to describe it... too generic? It's like I've seen this kind of dress many times before. What do you guys think?
Her sisters, Kourtney and Khloe served as her Maid and Matron of Honor.
All her sisters wore custom-made ivory Vera Wang dresses that featured flared tulle skirts. They all carried bouquets made up entirely of white roses.
I don't know... I think they took the "Pippa Middleton wore white to her sister's wedding" trend a bit too far.
Perhaps a little hint of color on her sisters' dresses would've been good?
Besides little Mason, my other favorite member of their family is Bruce Jenner, haha!
He walked his step-daughter down the aisle.
Aww, they all looked happy. It's sad that it wasn't exactly the fairytale that they said it was.
I am not a fan of the huge bow on Kris Jenner's dress. You?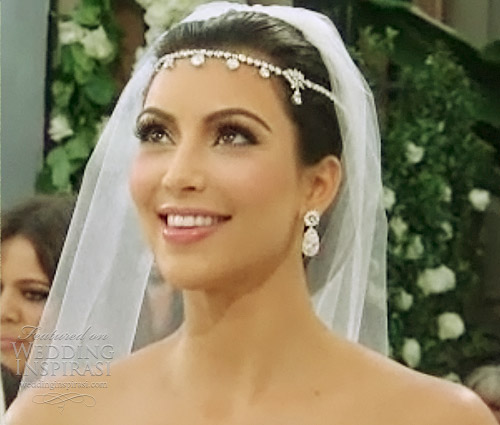 I liked Kim's hair and makeup -- I think she looked beautiful and radiant.
Her earrings are undeniably gorgeous, but I'm not sure I like the headpiece.
***Diana and Marisa informed me that wearing a headpiece is an Armenian tradition. Thanks for the info, guys!***
How sad...
Kris Humphries wore an Ermenegildo Zegna white peak lapel tuxedo jacket, black tuxedo pants, white tuxedo shirt, and white bow tie.
Did you guys see Nick Lachey and Kelly Ripa dressed as Kim and Kris for Halloween?!
So funny, I couldn't stop laughing!
Anyway, back to the wedding...
Their 440 guests were asked to wear either black or white.
I guess the majority went for black.
The aisle was covered with a 196 feet runner adorned with 750 hand-applied Swarovski crystals, featuring the couple's double K monogram on each end and vintage flourishes on the sides. The runner was made by The Original Runner Company.
They erected a grand marquee on the lawn for the reception.
The marquee featured draped black and white curtains.
Large arrangements of white roses lined the walkway.
Inside, the Old Hollywood-style room was decorated with hydrangeas, orchids, mirrors, and crystal chandeliers.
I think it looks absolutely beautiful!
It must've been more beautiful at night.
For the reception, Kim changed into her second Vera Wang dress -- an ivory Georgette mermaid style gown with hand-pieced Chantilly lace applique on the bodice and a skirt with hand-cut organza petals intermixed with organza sprig embroidery and Chantilly Lace motifs. Kris also changed into a second outfit -- a black peak lapel Ermenegildo Zegna tuxedo, white tuxedo shirt, and a black silk bow tie.
They danced their first dance to Robin Thicke's Angels.
Other details:
Rings: A black gold band with black diamonds for him and a diamond eternity band with more than 15 carats of emerald cut stones for her.
I think her wedding ring is way too over the top. :/
Other jewels: A $2.5 million diamond wraparound headpiece and $5 million diamond drop earrings. And of course, her 20.5 carat diamond engagement ring -- reportedly costing Kris $2 million, but now Kris Jenner is saying it's not actually that expensive, hmm...
Dresses: The first two dresses described above, the second dress also pictured here, and a third Vera Wang dress -- a bias-cut crepe back satin gown with a V-neck and circle skirt.
Invitation: These came in their own boxes, decorated with hematite crystals and a series of interlocking Ks. They were made by Lehr & Black.
Food: The legendary Wolfgang Puck catered the event.
They served Santa Barbara heirloom tomatoes with buffalo mozzarella, tomato chips, basil and salad leaves followed by a choice of hand-formed agnolotti pasta with sweet corn mascarpone and summer truffles, or roasted chicken with Yukon Gold potato puree, caramelized brussels sprouts, summer truffles and rosemary.
Sounds delicious!
And last, but not the least, the cake:
Hansen Cakes made this impressive six-foot tall cake featuring eight octagonal tiers and alternating flavors of marble cake and chocolate butter creme. The tiers were studded with chocolate chips.
The cost? $10,000!
44o guests
3 custom-made Vera Wang dresses
A wedding that reportedly cost $10 million...
All for 72 days of marriage.
It was undeniably a beautiful wedding, and I know it's her money, but it makes me shudder to think of how many hungry people in the world that $10 million could've fed, how many students that could've sent to school, how many sick people it could've helped...
I hope Kim chooses to go with a simpler wedding next time, and I hope her next marriage works out.
What did you think of Kim and Kris' wedding?
***other images from Google***