Happy Thursday!
Here is my second IMATS Spotlight post! :D
One of the booths at IMATS Los Angeles 2012 that really caught my eye was the KollagenX booth.
They had really interesting and such promising products, I am definitely thinking of saving in order to get some of them next time. ;)
Our mission is to develop and introduce new, safe, more affordable, and eco-friendly NGT® products that will help improve the quality of all our lives. Our unique anti-aging skin care products restore a natural youthful glow and a smoother, suppler appearance. KollagenX® helps bring back the nourishment your skin needs to be healthier and function more effectively.
KollagenX® is a California based cosmetic company that's main focus is Nano Gold Technology, also known as NGT®. KollagenX® was formed by Rondell Fletcher, George Huerta, and Andrew Ancona in early 2008.
A lengthy search for a smart alternative to costly and painful cosmetic surgery turned up with no reliable options. Realizing there was a desperate need for a safe, cost effective solution to cosmetic surgery, our colleague and ourselves decided to develop state-of-the-art techniques for providing Nano Gold Technologies (NGT®) to consumers.
After the successful launch of the Original 24KT Gold Collagen Mask, we set forth to create KollagenX®.
We exclusively catered to the professional sector of salons, spas, and beauty professionals to get a real feel for the needs of their clients. We immediately began to get positive feedback from the results of our masks and we knew exactly where we wanted to go from there. Extremely excited about the results, we decided to plan and launch a complete 24KT line in 2010.
***from www.kollagenx.com***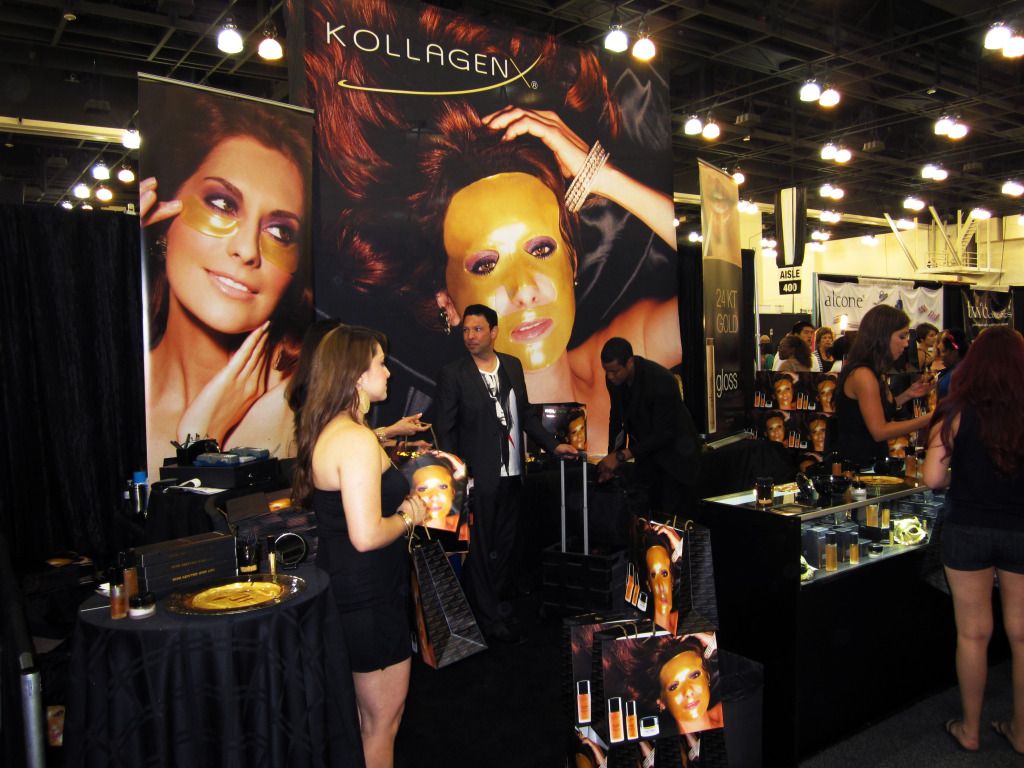 I wasn't able to take a photo of their booth at
IMATS Los Angeles
, but here is one courtesy of the awesome Marie from
www.allthingsmarie.com
! :)
- 24KT Gold Eye Serum
- 24KT Gold Cleanser
- 24KT Gold Ageless Hydrating Face Cream
- 24KT Gold Collagen Mask
- 24KT Gold Under-Eyes
- Gloss by KollagenX
I got a sample of their 24KT Gold Eye Serum from their promotional kit.
I have yet to use it, but I'll definitely keep you guys updated about it if you'd like. :)
The other thing that I really, really want to try is their Gloss by KollagenX.
Introducing Gloss, the newest addition to the KollagenX family.
Infused with 24KT Gold, Collagen, and Vitamin E, this luxurious lip gloss has been formulated to enhance cell renewal, reduce lip wrinkles, and increase lip volume. This rejuvenating lip treatment promotes fuller, healthier lips, and also glides on smooth for a beautiful, long lasting shimmer.
Sounds amazing, right?!
Have you ever tried anything from KollagenX?
Which of the products mentioned above caught your interest the most?
To learn more about
KollagenX
and their products, you can check out
www.kollagenx.com
.
You can also keep up to date with them on
Facebook
.
----------------------------------------------------------------------------
P.S. Win any bag of your choice from Twisted Orchid (worth $80 or less)!
It is open to U.S. residents only and it will end on August 23rd at 11:59pm PST.
To enter, please click
here
.