Yay for the weekend! :D
I think this season's new TV lineup is one of the most successful ones we've seen in a while.
There were a lot of new TV shows that became instant favorites.
My nights are now filled with TV shows to watch... thank God for DVR and Hulu, haha. ;)
Besides looking forward to what's gonna happen next, I find myself looking forward to what the characters are gonna wear!
Here are the stylish characters I am loving from my new favorite TV shows:
1. Hart of Dixie -
Arguably, the most stylish doctor ever: Zoe Hart.
The people of Bluebell hate her shorts, but I love them!
Zoe seems to have feelings for town lawyer George Tucker, but I am definitely on Team Wade!
The other stylish girl from Bluebell that I love: Southern-sweetheart Lemon Breeland.
I love how Jaime King portrays Lemon -- she's a girl you'd hate ('cuz she's mean to Zoe), but you can't help but love her nonetheless because there's so much more to her than her snooty persona.
Plus, I love her sweet and girly style!
She's engaged to George Tucker, but I want her to end up with ex-football player and now-Bluebell mayor Lavon Hayes. (Sorry, George!)
2. Ringer -
Bridget Kelly, posing as her wealthy twin sister Siobhan Martin, now has access to an amazing closet!
Besides those gorgeous clothes, Bridget has also won the affection of her sister's estranged husband, self-made millionaire Andrew Martin (but he thinks she's Siobhan, so that's a big problem).
I really really really want Bridget and Andrew to end up together, though.
3. New Girl -
Everyone's favorite adorkable roommate, Jess, has really cute clothes!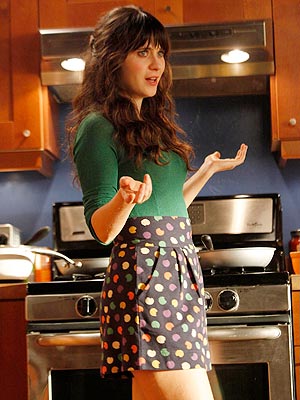 I really loooove Jess' bright-colored ballet flats!
And I want Zooey Deschanel's hair!
4. Revenge -
Emily VanCamp as Amanda Clarke/ Emily Thorne makes getting revenge look so easy!
Emily has a laidback and casual beach style.
When it's time for her to attend those Hamptons soirees, Emily breaks out her dresses.
I looove this dress she wore to a Fourth of July party:
Her best friend, Ashley, also has the most amazing clothes!
I love Emily's relationship with multi-millionaire Nolan Ross -- hopefully Nolan remains loyal to her, I think she really needs his help to ensure her plans go smoothly.
Oh and Revenge fans, are you Team Daniel or Team Jack? ;)
5. The Secret Circle -
I just recently started watching The Secret Circle episodes online, and I am hooked!
The outfits worn by The Secret Circle girls can be easily recreated -- leather jackets, cardigans, boots, etc.
I have six more episodes to watch before I am all caught up.
Out of all these characters, I think I dress the most like Jess (I love skirts, dresses, and ballet flats!). I'd love to be as polished as Lemon always is, but I should take some style tips from Zoe. This winter, I want to wear boots like the ones worn by The Secret Circle girls. I should stock up on cocktail dresses à la Emily and Ashley. And when I am older, I want to dress like Bridget/ Siobhan. ;)
What about you? Whose style is closest to yours?
Who's on your list of the most stylish TV characters (besides Blair and Serena, of course, haha!)?
Have a fantastic weekend, everyone! :D
-------------------------
P.S. My
$100 Shopbop gift card giveaway
is open to everyone (except Pennsylvania residents, sorry!) and it will end on December 23rd. To enter, please click
here
.