Happy Thursday!
It's almost the weekend and I'm sure holiday parties are now in full swing. ;)
We talked about Christmas outfits on my last post... the next thing on our list: NAILS!
I think it's always nice to have clean and polished nails.
I've always admired my older sister's impeccable mani and pedi -- you don't know how happy I was when I finally learned to paint my own nails! ;)
It's amazing how many different nail polish brands and colors are out there -- there's so many that it's quite hard for me to pick just one favorite... but then again, where's the fun in sticking to just one brand and color, right?
I love trying different brands and colors, and that's why I was so so so happy to receive

Dr.'s REMEDY

®

Enriched Nail Polish

es to review! :D
Jolly & Joy Holiday Collection
(RESOLUTION Red Glitter, REVIVE Ruby Red, PASSION Purple, ESSENTIAL Emerald, and SERENE Silver Glitter)
I received those five gorgeous colors (and they also threw in a nail file!).
Dr.'s REMEDY

®

is a line of doctor-inspired cosmetics that is dedicated to using clean, hypo-allergenic ingredients. Enriched with naturally occurring antifungal ingredients like tea tree oil, garlic bulb extract, vitamins C and E, and wheat protein, Dr.'s REMEDY

®

Enriched Nail Polish is free from harsh toxins to promote healthier, stronger nails and the first-ever nail polish on the market approved by the American Podiatric Medical Association.
Dr.'s REMEDY® is the most unique nail polish on the market, created by two doctors who truly care. Once you experience the high quality of this enriched polish, you'll be happy you switched to a healthier alternative.
Use Dr.'s REMEDY® as a healthier alternative to commercial nail polish or if you suffer from:
- nail fungus
- brittle, discolored nails
- have an allergy to chemicals in commercial nail polish
This is also great for pregnant women as these nail polishes do not contain toxins such as DBP, Toluene, and Formaldehyde.
Here are the five colors featured in their holiday collection:
1. PASSION Purple - A bombshell-boysenberry with subtle silver meshed throughout.
This was the first color I tried, and I was really very impressed by it.
I can tell just from the first coat that it's really healthy for my nails.
It went on smoothly, it's shiny, and I didn't even have to put top coat over it.
I did put on three coats to show the richness of the color, though.
2. SERENE Silver Glitter - A seasonal sizzler like no other; shine, chic, totally unique in the metallic scene.
I think this one is perfect for New Year's -- it's silver, it's sparkly, it's metallic, it's fun!
And there's still a hint of Christmas from the little red and green sparkles.

Two coats are enough -- if you put more than that, it's gonna be too thick, it won't dry right away, and it will peel off easily.

3. REVIVE Ruby Red - A shimmer-infused, Wizard of Oz-inspired shade of crimson.
This is a beautiful ruby red color!
Like PASSION Purple, this went on ever so smoothly.
Two coats. No top coat.
The brush for this one is too thin, though. And that made it difficult to distribute the nail polish evenly on my nails, but that is probably just with the particular one I got.
4. RESOLUTION Red Glitter - A red-meets-copper spin that's sequin-look-alike laden with high-shine and sparkle.
I really loved this one!
If I don't have much time, but I want some sort of nail polish on my nails, this is the one I'm always gonna turn to.
One coat will give your nails a sheer and nude-ish look. Two coats will give you a nice, solid color.
This is also perfect for New Year's (I think the name pretty much explains why, haha!).
I loved how it kind of changes color -- it goes from silver to copper to red.
5. ESSENTIAL Emerald - A take on the classic tree-and-plant-inspired gem of a shade, with delicate glimmer and unparalleled amounts of glamour.
This isn't exactly the shade you would expect to see when you hear "Emerald", but I still think it's a really beautiful color.
Again, it goes on smoothly. Two coats. No top coat.
If you want a more "Emerald" shade, I think putting on more than two coats would do the trick.
This is a fun color that I will use for spring and for summer as well.
The colors are all so beautiful, and it's hard to pick a favorite. But if you were to ask me which of these shades I will probably use the most, I would say RESOLUTION Red Glitter and ESSENTIAL Emerald.
I can honestly say that it was such a pleasure to use Dr.'s REMEDY® nail polishes.
They are of really excellent quality and they are healthy for our nails.
They have a wide selection of gorgeous colors to choose from.
They are so smooth and so shiny -- I didn't use top coat at all!
And they dry incredibly fast!!!
They last for about the same length of time as other nail polishes last for me: about a week or so.
(The sparkly ones do chip faster, though.)
Dr.'s REMEDY®
is available for $17 (a bit expensive compared to other brands, but so worth it!) at
www.remedynails.com
. You can also call 1-877-323-NAIL.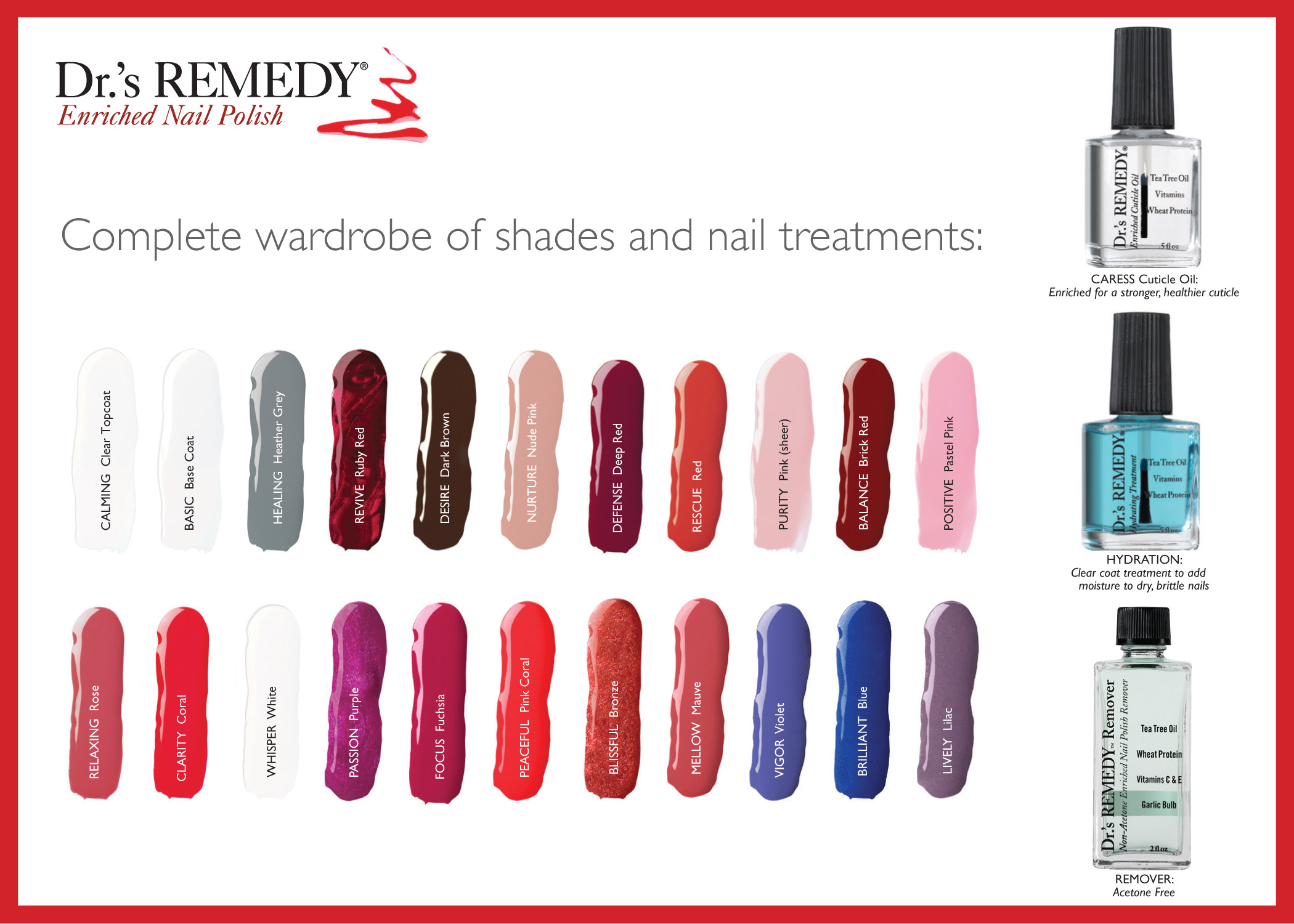 Have you tried Dr.'s REMEDY® Enriched Nail Polishes? Is this a brand that you would like to try?
Which of the shades above did you like the most?
---------------------------------------------
P.S. One more day left to join my $100 Shopbop gift card giveaway.
To enter, please click
here
.