I am writing this sentence right at 11:55pm, so technically that's still Wednesday, haha! ;)
I was really planning to post this for Wedding Wednesday; however, I got busy.
But hey, it's never too late, right?
The year is almost over, so I thought it'd be nice to round up the most beautiful brides of 2011 (this is according to my opinion, of course).
Many couples tied the knot this year -- all the brides and their dresses were absolutely beautiful, but it would be sooooo difficult to go through all of them. And that is why I decided to feature my favorite brides of the year
(I'm thinking I'll make a list of my top 5 2011 weddings for next time). ;)
So, let's start:
1. HRH The Duchess of Cambridge -
You can't talk about 2011 brides and not mention Her Royal Highness.
Duchess Catherine wowed the world when she stepped out in her Sarah Burton for Alexander McQueen wedding dress.
The Grace Kelly-inspired dress featured hand-cut English lace and French Chantilly lace. The lace appliqué for the bodice and skirt was hand-made by the Royal School of Needlework.
Individual flowers have been hand-cut from lace and hand-engineered onto ivory silk tulle to create a unique and organic design, which incorporates the rose, thistle, daffodil and shamrock. The dress is made with ivory and white satin gazar. The skirt echoes an opening flower, with white satin gazar arches and pleats. The train measures two metres, 70 centimetres. The ivory satin bodice, which is narrowed at the waist and padded at the hips, draws on the Victorian tradition of corsetry and is a hallmark of Alexander McQueen's designs. The back is finished with 58 gazar and organza covered buttons fastened by Rouleau loops. The underskirt is made of silk tulle trimmed with Cluny lace.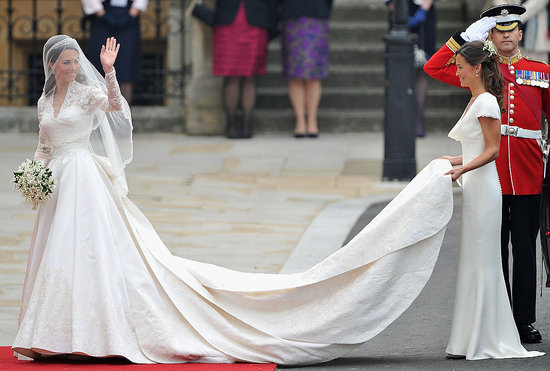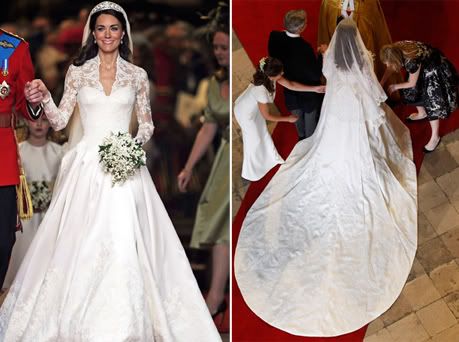 Beautiful!
Check out the royal wedding
here
.
2. Dylan Lauren -
If you were Dylan Lauren and your father is legendary designer Ralph Lauren, I think you'd ask your Dad to design your wedding dress too. ;)
Ralph Lauren went through multiple sketches before coming up with the perfect design for his only daughter: a georgette embroidered wedding gown, handmade with duchesse satin and silk tulle.
Simply gorgeous!
3. Lauren Bush-Lauren -
If your father-in-law is Ralph Lauren, then you'd ask him to design your wedding dress too, right?! Yes!
When Lauren Bush married David Lauren, she wore a gorgeous gown that featured long lace sleeves and a high neck. She finished her stunning wedding look with a long veil and wrap around headband.
The top layer of the dress consisted of antique ivory tulle that was embellished with silk and metallic thread, following a Renaissance-era scroll design that took a team of 100 over 3,000 hours to sew.
Breathtaking!
4. Molly Sims -
The model and actress wore the "Isadora" wedding gown from Marchesa when she married Scott Stuber this past September.
The drop-waist lace sheath gown, from the Spring 2012 collection, has a flare lace skirt and appliquéd cascade sleeves. There are buttons up the back and a sheer lace-trimmed overlay at the neckline.
Love it!
5. America Ferrera -
America looked gorgeous in her Amsale's Christos wedding gown!
The ivory strapless dropped waist gown has a lace bodice and tiered pleated tulle skirt.
It is made of French corded lace and tulle.
She wore her hair pulled back with a beautiful lace veil.
Soooo happy for her!
6. Reese Witherspoon -
Reese wore a custom-designed, blush-colored Monique Lhuillier creation.
It has a Chantilly lace corset bodice, a full tulle A-line skirt, adorned with a double-face silk satin ribbon with cascading silk flowers that matched her daughter (and maid-of-honor), Ava's dress.
So radiant!
Check out Reese's wedding to Jim Toth
here
.
7. Jetsun Pema, Queen of Bhutan -
Can you say royal wedding mania?!
Bhutan welcomed a new queen when 21-year old Jetsun Pema married 31-year old King Jigme.
Isn't this picture the cutest thing ever?!
Even though it is traditional for them to take on multiple wives, the king announced that Jetsun Pema will be his only wife -- awwww!
Their wedding attire is so colorful and so pretty!
The bride ordered several elaborate kiras, the national dress for Bhutanese women, from among prominent weavers in the country. She chose one of these kiras, which are woven from raw silk and can take months to complete, as her wedding gown. She wore a light yellow tego and a kira colored red, yellow, green and white, along with red earrings to match her red wonju.

The King, on the other hand, wore a rose patterned yellow silk gho (the same one worn by his father and grandfather when they got married).
I love her shoes!
I think Queen Jetsun is beautiful!
She seems so poised and she looks every bit the queen that she is -- not your typical 21-year old, very impressive!
There you have it, these are the most beautiful brides of 2011 for me.
I guess you can kinda predict which 2011 weddings belong in my top 5, haha! ;)
Do you agree with my choices?
In your opinion, who are the most beautiful brides of this year?
--------------------------------
Have you joined my international $100 Shopbop gift card giveaway (ends December 23rd!)?